John Holland Group
John Holland Group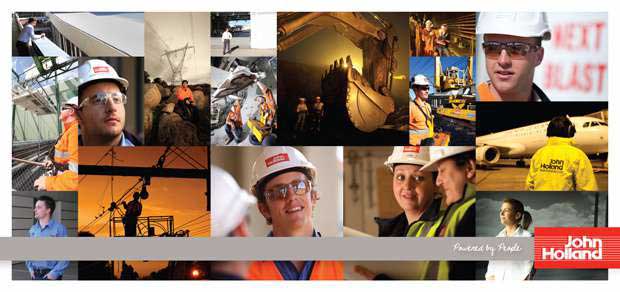 John Holland Group
The John Holland Group (JHG) is one of Australia's largest and most diverse specialist contracting businesses. Expert skills include everything from tunnelling and telecommunications to rail and road. Three thousand staff are spread across numerous offices and sites around Australia, some working on temporary project sites, others based in corporate head office. With such a breadth of work, a large staff base and geographical spread, quick and effective communication is vital.
The Challenge
JHG needed an alternative to the PABX system, and was looking for a solution that was easy to maintain and implement. The company had an existing relationship with IPFX having used its telephony for basic voicemail and was interested to find out more about how it could benefit from VoIP and expand its limited Unified Communications applications.
The Solution
The IPFX application suite comprises of a single application that provides an IP PBX, Voicemail or Unified Messaging, integration into Lotus Notes, complex call routing, Presence, Console and real-time Directory services.
"The attraction to IPFX was the ability to manage both the infrastructure and the telephony application via a single common interface via Lotus Notes, and IPFX's flexibility, scalability and responsiveness to address our complex business requirements.
The fact we were already working with IPFX on basic Unified Communications meant this decision was simply an extension of the relationship," says Tim Rollason, IT Systems Administrator, John Holland Group.
Benefits
Following implementation of the IPFX VoIP system, all Redox employees now benefit from the improved communications linking the offices, with less people spending time on hold or listening to busy signals when phoning each other. Staff at all Redox locations embraced the IPFX integration into Microsoft Outlook quickly, and with a single provider for all communications, employees can deal with all requests at one interface and prioritise them easily and quickly.
Employees based in remote locations now feel more connected to Head Office with the real time visibility of phone status and location Presence, and the business has been growing steadily since IPFX Director was put into operation. Redox customers have also benefited from the implementation of Unified Communications, with the centralised and shared switch board, meaning less time is spent on hold and more efficient responses.
Information and communication are the mainstays of a trading company like Redox, and part of its competitive advantage is based on how market information is dealt with and communicated internally and externally. IPFX Unified Communications helps keep Redox at the forefront of communications and maintain its competitive lead. "As we continue to grow locally and into new markets in Asia, and as our workforce becomes more dispersed around the world, on the road or working from home, the IPFX solution will help us continue to feel like one unified team."